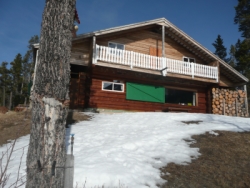 The Main Lodge

Situated on a peninsula, consisting of a 4-bedroom, custom-built log structure, in spite of its remoteness boasts a big kitchen, running water, indoor toilet, bathroom, hot-water shower, balconies on the South and West side, propane and 12V and DC solar powered lighting, and, of course, a large open fireplace.
This is coziness at its best, complimented by stunning views of the surrounding mountains and lake. Underneath the whole lodge is a cemented cellar with several storage rooms, an air-cooled one for groceries, and a powerful wood heater, which warms the whole lodge even in the coldest winter (as low as -45 degrees Celsius/-50 degrees Fahrenheit).
Sauna
Exclusive, custom-built log structure with a separate massage and relaxing room, porch, and the same spirit-lifting lake and mountain view.
Schoolhouse
Used for game skinning, meat cutting, wildlife research and instructing students and guests.
Smokehouse
Here you can smoke your catch of fish or game.
Cabins, teepees, and shelters
More rustic inclined guests can also choose from a variety of trapper cabins, some of which are antique, original teepees and survival shelters.
Cuisine
Scrumptuous meals are prepared on a wood stove in our fully equipped kitchen. Frequently, meals are cooked over open-pit fires in the great outdoors or inside a teepee. The menu consists of German and Canadian country-style cooking (including exceptionally tasty recipes for wild game and fish we bet you never tasted before) and has pleased our guests since 1986 (references of "survivors" available on request).
Please advise us of your special wishes (allergies/dislikes) regarding food (e.g. vegetarian) at the time of registration!